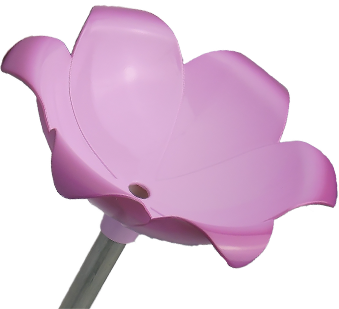 Emily
The elegant tapered petals of Emily were inspired by daffodils. The vibrant tips compliment the softer shade of the flower basin for a lovely year-round garden accent.
Buy Now
Jazmine
Jazmine was inspired by lilies with wide and gracefully pped petals. Like a lotus flower on a lily pad the colorful flower basin provides a splash of color to your garden or patio container.
Buy Now
Traditional Watering
Watering by hose or sprinkler only reaches the top few inches of the soil. So much is lost to evaporation and run off that your plant's roots grow along the surface.
Water Blossom MEthod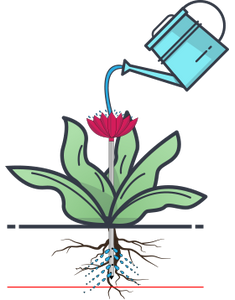 Deep watering is the key to healthy plants. Watering at least 6 to 12 inches below the surface produces roots systems that withstand drought and disease.
The water blossom story
Water Blossom Creations, LLC is owned and operated by my husband and I. As an avid gardener I was tired of watering our gardens, only to find that the water failed to penetrate below the hard surface layer of the soil, especially in hot summer weather. Too much water was being lost to evaporation and run-off resulting in shallow, inefficient root systems. So I designed an attractive solution--Water Blossom®--to help and enhance our gardens. My enterprising husband ran with the idea and together we took it from concept to reality.  We sought out high quality materials and U.S. manufacturers to create a durable, long-lasting product.
Now our decorative root watering tool allows us to water deeply and less frequently, while adding a lovely accent to our garden, patio containers and houseplants. Water Blossom can be used indoors or outdoors and is useful in all seasons. We have started with two designs in multiple colors, but more styles and colors will soon follow.